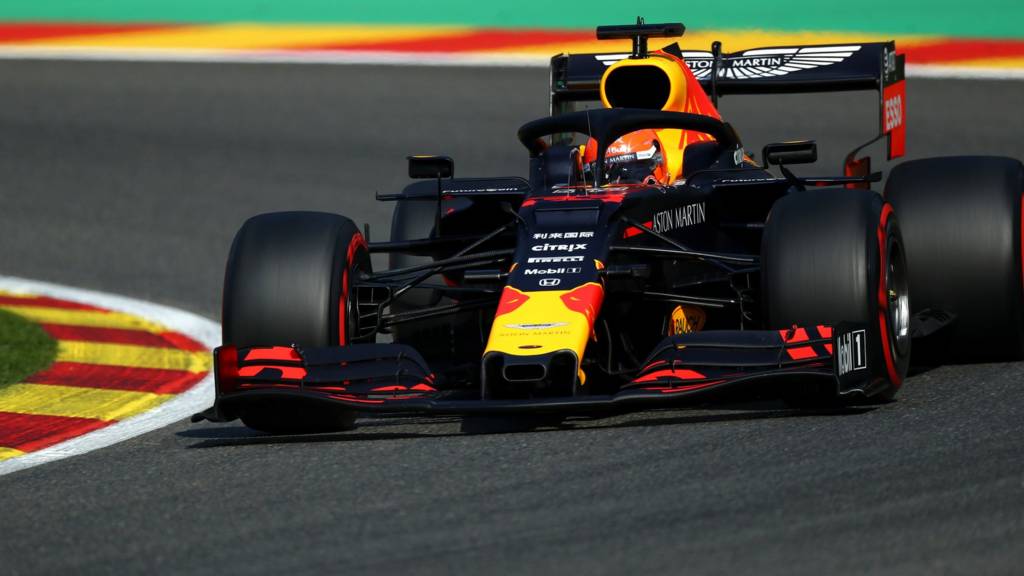 Got a TV Licence?
You need one to watch live TV on any channel or device, and BBC programmes on iPlayer. It's the law.
Live Reporting
Michael Emons
All times stated are UK
Jolyon Palmer

Former Renault driver on BBC Radio 5 Live Sports Extra

I think this 2020 calendar is a thing of beauty from a drivers' point of view. The three Italian races are really great venues and it's nice to mix things up.

If you can mix it up, then it is golden for a year.

If they are good races, then there's no reason why we couldn't go back to Istanbul or some of these other places in future.

A reminder of the perils of Formula 1

Andrew Benson

BBC Sport's chief F1 writer

Spa. It's one of the highlights of the Formula 1 year. But last year, this grand old race track reminded the Formula 1 drivers of the perils inherent in their job, which in these modern times can often be forgotten, so much safer has F1 become than in the past.

On Saturday, after qualifying, they watched Anthoine Hubert lose his life in an accident of sickening violence in the Formula 2 race. And that evening they all spent some time considering what it meant to carry on racing. A year on, they come back to Spa, looking forward to the challenge it poses, but with the risks very much on their minds.

Among them, the pain was greatest for Charles Leclerc, Pierre Gasly and Esteban Ocon, who had spent much of their childhood racing against Hubert. And for this weekend Gasly has produced a helmet in tribute to his old friend, festooned with pictures of them together. "Special helmet for a special friend," Gasly said. "Still struggling to believe that's real. Life can be brutal sometimes. Will give my best this weekend and try to make him proud."

These are the tyres that everyone will be moaning about all weekend.

Ferrari's Charles Leclerc gets the first time of the week on the board with a 1:47.033 on the hard tyres.

Get Involved #bbcf1

Which race in the rest of the 2020 season are you looking forward to the most and why?

Kayleigh: Most looking forward to Imola!
Can't wait to see how a two-day weekend with play out.

Keynote Dude: Looking forward to Portugal the most! Also, does anyone know if one of the Bahrain races will be on the oval layout?

Phill Swaffer: The race I'm most looking forward to is the return to Turkey. Two words, turn eight.

Session one is under way. Ninety minutes.

BBC Radio 5 Live Sports Extra

We are live on BBC Radio 5 Live Sports Extra so press the play button at the top to listen along to Jack Nicholls, Jolyon Palmer, Jennie Gow and Andrew Benson.

There is a tribute to Anthoine Hubert on the helmets of both Pierre Gasly and Esteban Ocon this weekend. Here's Gasly's…

Tribute to Anthoine Hubert

Getty ImagesCopyright: Getty Images

This weekend's race will be preceded by a minute's silence in memory of Formula Two driver Anthoine Hubert.

The French driver died after crashing in an F2 race at last year's meeting at the Spa-Francorchamps circuit.

An emblem that reads AH19 will also be displayed on all the F1 cars.

Hubert was a close friend of many current F1 drivers including Pierre Gasly and Charles Leclerc.

Getty ImagesCopyright: Getty Images

Get Involved #bbcf1

Which of the 2020 races are you looking forward to the most and why?

That brings us on to our first talking point of the day and we're asking…

Which of the remaining races in 2020 are you looking forward to the most and why?

Tweet us using the hashtag #bbcf1

Some big news from Formula 1 since the last race in Spain and that is the announcement of the final four races of the 2020 season.

That brings the total to 17 races this year, which in these circumstances is going to be a great effort.

It's a return to Istanbul, two races in two weeks in Bahrain and then the season-ender in Abu Dhabi.

F1Copyright: F1

Who is the current King of Spa?

Getty ImagesCopyright: Getty Images

Image caption: Raikkonen won the Belgium Grand Prix four times in five years from 2004

Lewis Hamilton is favourite to win this weekend and has triumphed in Belgium three times previously – 2010, 2015 and 2017.

However, he isn't the most successful current driver at Spa. That honour falls to Kimi Raikkonen, who has four race wins in Belgium – although his last was over a decade ago (2004, 2005, 2007 and 2009).

Hello and welcome along to BBC Sport's coverage of the Belgian Grand Prix weekend.

First practice gets going at 10:00 BST and we will have live radio commentary from just before then.

As always on a Friday, we have two sessions to entertain us with session two starting at 14:00 BST.

Always one of the highlights of the year

We've had six rounds of the season and now on to one of the best circuits of the season.

Round seven. Spa, Belgium.
Latest Post