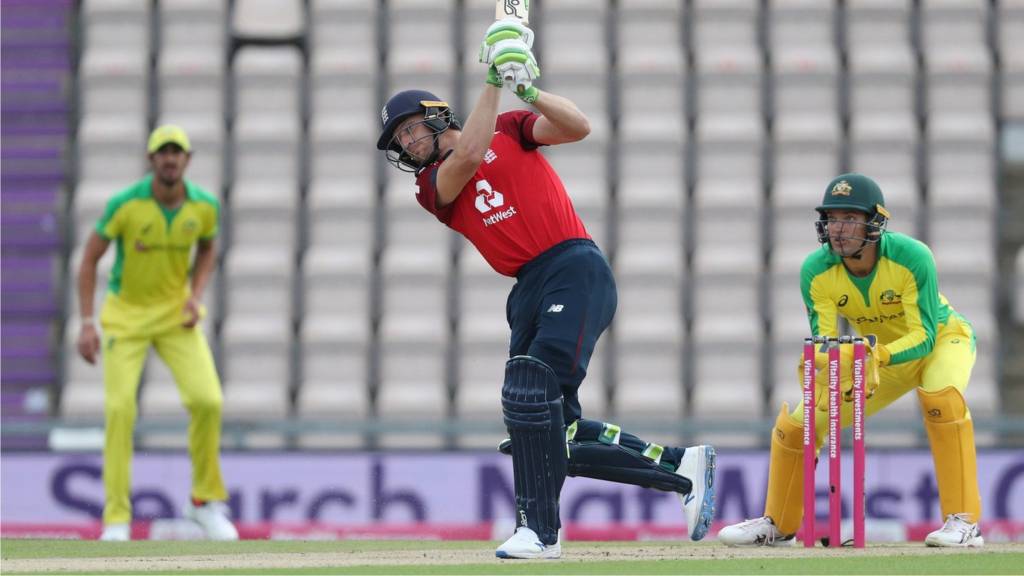 Got a TV Licence?
You need one to watch live TV on any channel or device, and BBC programmes on iPlayer. It's the law.
Live Reporting
Matthew Henry
All times stated are UK
WICKET

Bairstow c Starc b Cummins 8 (Eng 43-1)

At what point do Australia start to really worry? Buttler punts Cummins over extra cover sensationally. It's Buttler's sixth boundary already.

Agar is off. The majestic Pat Cummins is on.

Andy Zaltzman

Test Match Special statistician

There had been a strong advantage to teams batting first in T20s here until the past two years. In the past two years it's been eight wins and nine defeats.

Four more!

Mitchell Starc bowls a nice wide yorker and Buttler still gets it to the rope.

Buttler has 29 from 14 balls. Bairstow has hardly had a look in.

Buttler times the pants off one from Starc now. A lovely back-foot punch that runs away and into the boundary sponge.

He likes it here at the Ageas.

jambarrell: What were people saying about Jos not opening???

Chris Podd: Jos Buttler opening is a no brainer – you want your most destructive batsman facing as many balls as possible.

Ashton Agar could at least see the funny side of that start. He got a cuddle from Glenn Maxwell at the end of the over.

Jonny Bairstow clobbers one into Marcus Stoinis' flesh. That'll bruise. A decent, but painful, stop.

Ebony Rainford-Brent

Ex-England women's batter on BBC Test Match Special

That is dismissive, isn't it? This is a perfect start. Agar will be out of the attack.

Eng 24-0

Buttler 19, Bairstow 4

Massive!

Jos Buttler welcomes Ashton Agar back to professional cricket in emphatic style.

Ebony Rainford-Brent

Ex-England women's batter on BBC Test Match Special

I think Buttler likes the idea of Agar.

Buttler isn't going to have a look! He rocks back and clubs Agar for four more.

Alison Mitchell

BBC Test Match Special

That's almost taken out a photographer. He was brave to not dive for cover.

Speak of the devil.

Buttler pumps left-arm spinner Ashton Agar's second ball for a mighty six back down the ground.

I think when that "big name" is Jos Buttler it's alright, no?

Neil Boughton: Banton was our best batsman in the series T20 series against Pakistan as an opener, his natural position, yet gets pushed down the order for 2 natural middle order batsmen?! Talk about big name bias!

Eng 8-0

Buttler 3, Bairstow 4

Starc lobs one down at 90mph and it bounces again after the stumps before reaching wicketkeeper Alex Carey. It doesn't look like the quickest of pitches.

Bairstow gets forward and drives the next ball. He doesn't time it but gets enough for the first four.

Alison Mitchell

BBC Test Match Special

T20 is the one format where you feel you genuinely miss the crowd.

David Warner, chirpy as ever, shouts something from his fielding position. He's smiling. There'll be no "we've seen you cry on the tele" chants today.

The first runs off the bat come as Buttler clips through mid-wicket.

Mitchell Starc begins with a massive wide! What were we saying about their six-month break between matches?
Latest Post