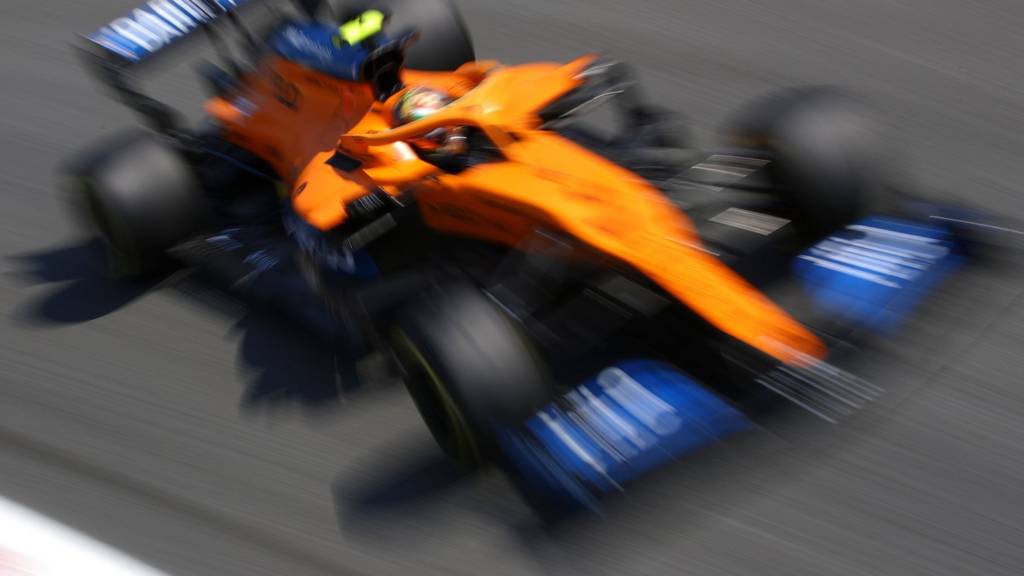 Got a TV Licence?
You need one to watch live TV on any channel or device, and BBC programmes on iPlayer. It's the law.
Live Reporting
Michael Emons
All times stated are UK
What of Ferrari? They started 13th and 17th – they're still there. They would have been expecting more from the start.

Hamilton
Sainz
Norris
Perez
Ricciardo
Bottas
Stroll
Verstappen

Hamilton will be absolutely delighted to hear that top eight.

Jolyon Palmer

Former Renault driver on BBC Radio 5 live

Bottas is having a shocker of a first lap! He is losing positions hand over fist!

Max Verstappen another with a horrible start and he has gone from fifth to seventh.

Bottas is falling quickly. He must have a problem.

Hamilton with a perfect start and his lead is already 1.3 seconds clear of Carlos Sainz.

Norris with a flying start too, all around the outside of Bottas. McLaren second and third.

Brilliant for them. Disaster for Bottas.

Sainz gets ahead of Bottas.

Relaxpool: As a Vettel fan, I think he should quit Ferrari now. There is no point to carry on. Why would 4 times world champion like him has to race for 15th position? It does not make sense.

Angie: We already know who will win this race – come on Max.

How about a wet race today to spice things up? Nope. A beautiful day at Monza.

A reminder of how we start. An all-Mercedes front row and McLaren and Racing Point sharing row two. An awful lot of work for the Ferraris to do.

Last week's race at Spa was not a classic by any means. F1 needs a thriller this weekend. Let's hope it delivers.

GettyCopyright: Getty

Mercedes' Lewis Hamilton speaking to Sky Sports: "I look at this car and it is such a work of art and it is very humbling to be one of only two to be able to drive it.

"It is phenomenal how late you can brake into these corners. It is crazy how deep we get into the corners now. What you don't see on TV is the G-Force generated by these cars."

There apparently was no Lewis Hamilton or Sebastian Vettel at the anti-racism protest, but both drivers were on the grid for the national anthem a few minutes later.

ReutersCopyright: Reuters

'We have a little bit more'

Renault's Daniel Ricciardo speaking to Sky Sports: "I feel like we have a little bit more than some of our rivals but once everyone is in that DRS zone it is such small margins."

This is how it stands in the constructors' championship. How good would it be for Williams to get their first point of the season in the last race with their family involved?

Route to glory?

Try 24 laps on the softs and then 29 on the mediums, say Pirelli.
Latest Post