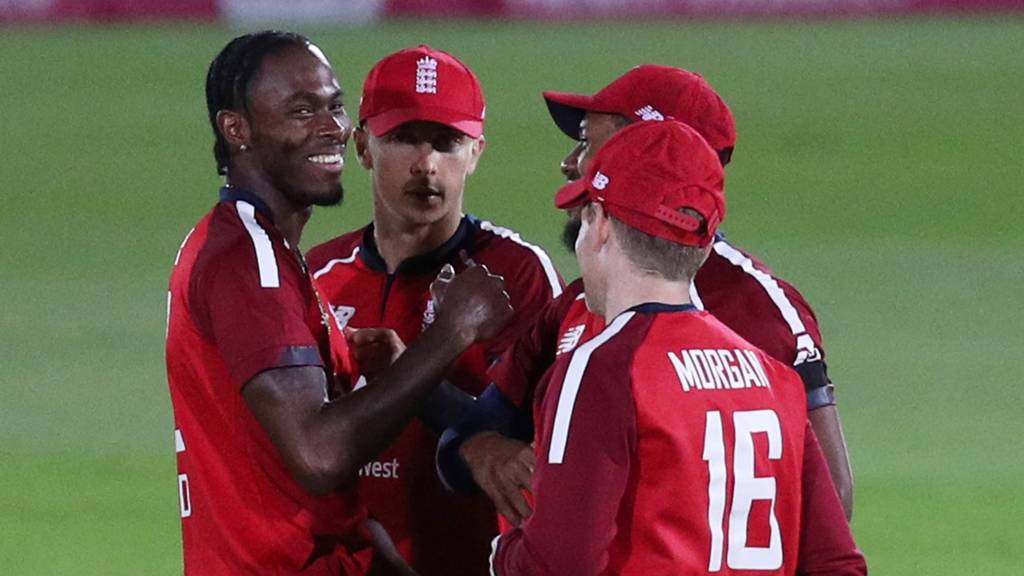 Got a TV Licence?
You need one to watch live TV on any channel or device, and BBC programmes on iPlayer. It's the law.
Live Reporting
Matthew Henry
All times stated are UK
Phil Tufnell

Ex-England spinner on BBC One

That nipped back off the pitch, good pace and bounce, and it unsettled Warner. That's the dangerman gone.

WICKET

Warner b Buttler b Archer 0 (Aus 0-1)

Hmmm. Has this hit the glove as well?

Alison Mitchell

BBC Test Match Special

England are excited. They reckon they've got him.

Another ripper from Archer. And has Warner nicked it? It sounded like it but Warner is suggesting it hit his arm. He reviews…

James Anderson

England bowler on BBC One

This pitch might have just hardened up a bitch. It swung across Warner.

Jofra! That is an absolute snorter. Unplayable. The ball goes flying past David Warner's nose.

Phil Tufnell

Ex-England spinner on BBC One

Lovely white turtleneck you've got on, Jimmy…

A dot ball to start with Warner leaving the ball outside off. After that big build up…

Eoin Morgan went racing out onto the outfield – it's like he was a young lad leading out his side for the first time!

Jofra Archer is going to bowl the first over. Both he and Mark Wood were rapid in the first game. That said, Warner and Finch were dominant too.

Strap yourselves in…

'I can't sing like Ed Sheeran'

Australia batter Steve Smith, speaking to BBC One about life in the bio-bubble: "It kind of feels like an under-19 tour, where we're all toether all the time, having our meals together. it's been going really well.

"I've been praticing the guitar. It's been good fun, I've had a bit of time to learn it! I like Ed Sheeran and I can play a couple of his songs, but I can't sing…"

Here we go then. England's players come buzz down from the dressing room. They look up for it.

Ebony Rainford-Brent

Ex-England women's batter on BBC One

England have got so many exciting prospects. They have the pace with the bowlers but then the batting at the top of the order is dynamic. England have everything they need.

A little harsh. Jimmy can wear whatever he likes in my eyes.

BBCCopyright: BBC

Nellberg: Has Jimmy got some Milk Tray to deliver later?

Tymal Mills

England bowler on BBC One

As soon as Jofra crosses the boundary rope and gets out in the middle, he's one of the most fiercely competitive guys. He's a really hungry, competitive cricketer.

Video content

Video caption: Archer and Jordan combine to remove Finch

James Anderson

England bowler on BBC One

For me, you want your best T20 player facing the most amount of balls – and that is Jos Buttler.

Video content

Video caption: Buttler hits Agar for two sixes in an over

England batsman Jos Buttler on BBC One: "I always have a positive outlook. I want to be in a frame of mind here if someone bowls a poor ball, I can capitalise on it. One of the big things I try and take is an intesity to the crease with my movements, my running."

Ebony Rainford-Brent

Ex-England women's batter on BBC One

It is the same wicket as last time, so it's going to be harder to bat on. I'd like to see Moeen Ali come into play a little earlier. Spin will be key.
Latest Post