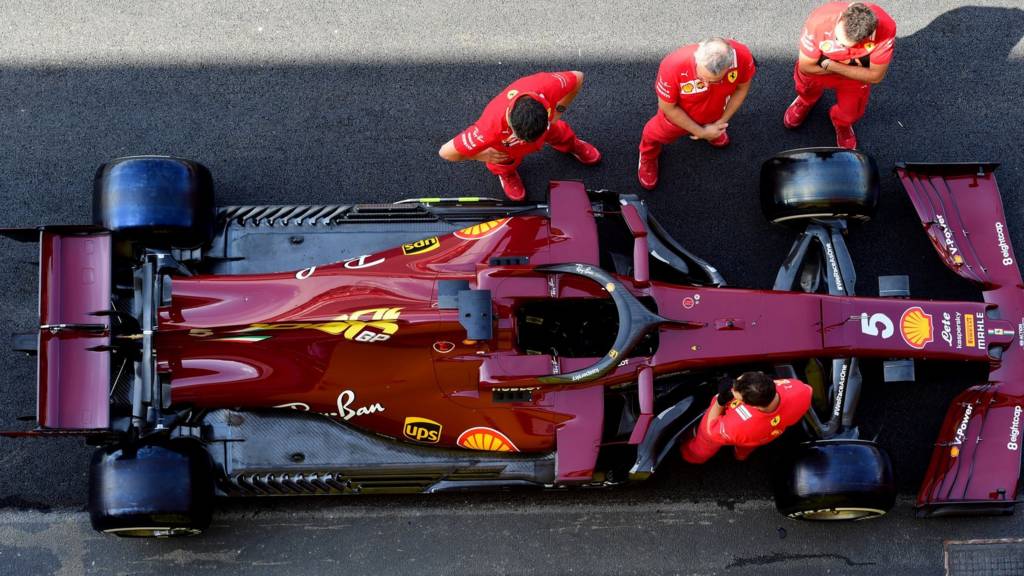 Got a TV Licence?
You need one to watch live TV on any channel or device, and BBC programmes on iPlayer. It's the law.
Live Reporting
Lorraine McKenna
All times stated are UK
Mugello better for Ferrari

Andrew Benson

BBC Sport's chief F1 writer

ReutersCopyright: Reuters

As well as being the Tuscan Grand
Prix, this race is also named for Ferrari's 1,000th Formula 1 world
championship race. When that deal was struck, Ferrari probably did not realise
this season was going to be quite as bad as it has turned out to be, and they
head into the weekend after their worst two competitive showings of the season
so far.

But Mugello should be better for them.
The car's biggest weakness is on the straights. In the corners, it's quite
strong. So although there is one long straight at Mugello, the rest of the
track is medium- and high-speed corners.

On paper, then, this should be more
like a Spain or Hungary-style experience for them. They're hardly getting
carried away, but Charles Leclerc, who said he was "OK" after his high-speed
crash at Monza, said: "I have a feeling it might be better than the last two
weekends. It should be a bit more positive."

Hand over your fastest lap time, Romain. Valtteri Bottas has just beaten it in the Mercedes.

The Finn is top with a 1:20.645.

Here comes Italian Grand Prix race winner Pierre Gasly.

"My steering is really, really light." the Frenchman reports to the Alpha Tauri pit wall.

Gasly's gone out on the medium tyres.

Lance Stroll is up on the stands in the Racing Point garage.

The Canadian has to watch on while everyone gets a taste of the new track.

Valtteri Bottas is the first driver to put a time on the board at Mugello.

Well done Mercedes.

1:22.124.

Jacqui Baker Stubbs: So my partner just got a glimpse of the Ferrari and in the most horrified voice I have ever heard from him

"It looks like BBQ sauce!!!"

George Parker: It is so so refreshing to see NO run-off. For once we won't have the track limits discussion. Why can't more tracks be like this.

Deanna Troi: Lando sounds like he's had his weetabix.

Andrew Benson

BBC Sport's chief F1 writer

ReutersCopyright: Reuters

Mugello has always felt like a place
that should be on the Formula 1 calendar, and now it is. A fast and flowing
circuit in a gorgeous landscape of rolling Tuscan hills and within shouting
distance of Florence, one of the world's most beautiful and historic cities, it
ticks all the boxes. And the drivers – whether lovers of Michelangelo and Da
Vinci or not – to a man cannot wait to get out there.

Many have not experienced the track at
all. Some have, but only in junior categories. A handful have experienced it in
an F1 car, either recently in the case of Sebastian Vettel and Charles Leclerc,
or longer ago, in the case of Romain Grosjean and Kimi Raikkonen. But all know
they are in for something special this weekend. Many corners are banked, the
circuit is like a "rollercoaster", according to Renault's Esteban Ocon. The
lowest gear most teams will use is fourth. And the two most famous corners are
called Arrabbiata – 'spicy' or 'angry', depending on whether you want a
culinary or literal translation. Like the food and wine in the region, it is a
track to savour.

The
name on the tin this weekend may say 'Tuscan Grand Prix.'

The
official title of the race, however, is a little bit more of a mouthful.

'Formula
1 Pirelli Gran Premio Della Toscana Ferrari 1000 2020'.

Not
one for the hashtag age, that's for sure.

McLaren ask Lando Norris for a radio check.

So he gives his engineers a little Top 40 tune to celebrate the fact it's Friday and it's a new circuit.

The Red Bulls are first out.

Both Max Verstappen and Alex Albon want to sample Mugello while it's quiet.

Here we go then. 90 minutes on the clock.

Mugello, what have you got for us?

BBC Radio 5 Live Sports Extra

Have the 5 Live F1 team recovered from Sunday's exhilarating Italian Grand Prix?

Let's find out, shall we.

Jennie, Jack, Jolyon and Andrew are in position and ready to
describe today's first running at Mugello.

Click the audio icon at the top of the page to listen to live
commentary.

Daniel Ricciardo has gone for a bit of leopard print on his face mask this morning.

It matches his race helmet, which I'll show you later…

FerrariCopyright: Ferrari

Charles Leclerc and Sebastian Vettel haven't been left out of the festivities.

The two drivers have been given deep red race suits to compliment the one-off livery.

No 1950s fancy dress costumes for the full Ferrari team this weekend sadly.

We all remember how that turned out for Mercedes at the German Grand Prix in 2019, don't we…

ReutersCopyright: Reuters

FerrariCopyright: Ferrari

A special celebration deserves a fancy one-off livery.

Ferrari's SF1000 cars will be sporting a deeper shade of red for the Scuderia's 1,000th Formula 1 world championship race.

The Italian team say it is a reproduction of the first Ferrari F1 car, the 125 F1 from 1950.

What do you think?

Hit the thumbs up button if it's a "yes, love it!"

Or press the thumbs down button if it's a "meh, not for me".

I saw the word "showers" in Fergie's tweet and panicked for a split second.

Andrew Benson

BBC Sport's chief F1 writer

Look out in
this first session for a new nose design on Carlos Sainz's McLaren. Team boss
Andreas Seidl said this morning that it was an experimental design, introduced
after some encouraging wind-tunnel data. They want to try it out to cross-correlate
on-track data with that already gathered. If the new design provides a gain,
Seidl said the team could have it on the car permanently within the next two or
three races.

If we take the second seat at Aston Martin out of the equation, as Lance Stroll isn't going anywhere anytime soon…

Are there any real possibilities on the table for Sergio Perez next season?

I've unlocked the doors to the bbcf1 hashtag ready for your
comments today.

Do you think Seb to Racing Point/Aston Martin is a good move?

Where do you see Sergio Perez ending up for 2021?

And what about Mugello. Will the Ferrari-owned track give us another race to remember?

So much to discuss. Get involved using #bbcf1 on Twitter.
Latest Post