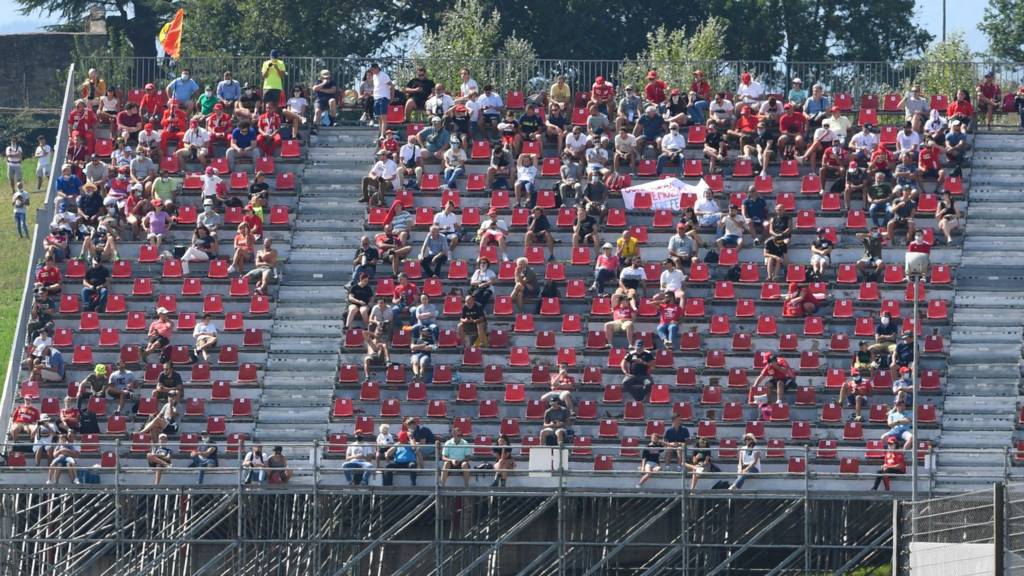 Got a TV Licence?
You need one to watch live TV on any channel or device, and BBC programmes on iPlayer. It's the law.
Live Reporting
Mike Henson
All times stated are UK
Get Involved #bbcf1

Verstappen out of Tuscan Grand Prix

quixoticqeek: Oh dear Max. You really wanna avoid that gravel, it's not good you know…

James Townsend: Well that was a start at a new track not raced in F1 before for sure…

Kayleigh: Sainz getting spinning lesson from Vettel before his Ferrari move.

Jack Nicholls

BBC Radio 5 Live F1 commentator

I think Vettel will have to come back into the pits. Grosjean is lucky to have got out of the gravel.

It was a chaotic start. Carlos Sainz's McLaren was spun, but got back racing. Sebastian Vettel is in the Ferrari garage for a new nose.

Pierre Gasly is out of the race after a tangle with Kimi Raikonnen…

Jack Nicholls

BBC Radio 5 Live F1 commentator

Verstappen's race is over pretty much before it has begun!

The safety car is on its' way.

Verstappen out of the race

Max Verstappen is into the gravel and is not getting out!

His race is over!

We are off! Valterri Bottas into the lead! Max Verstappen pressuring Hamilton as well!

Lewis Hamilton finds his parking bay at the front of the queue. Lights next…

The drivers get their last look at the Mugello corners at normal speed. Next up is 59 laps of blurring warp-speed racing…

The formation lap is under way as the pack weave through Mugello's curves to get some heat into their tyres…

Andrew Benson

BBC Sport's chief F1 writer

High
temperatures and the likelihood of teams pushing for a one-stop race means tyre
management. But what is actually happening when the tyres get hot? For the
tech-heads out there, here's the explanation.

At high temperature the compound loses
its modulus – a measure of its overall toughness and extrusion resistance. As a
result, it loses grip. High temperatures also increase pressure – a problem
because the starting pressure is regulated to safeguard the structural integrity
of the tyre, this Pirelli's mechanism to prevent blow-outs. And high temperature
reduces the contact patch, so there is less rubber in contact with the track,
which means less grip. Less rubber means the strip in contract with the track
is under more strain, and it heats up further, creating blistering, vibrations
and further loss of grip.

As the engines fire up, here is your full grid rundown:

1. Lewis Hamilton

2. Valtteri Bottas

3. Max Verstappen

4. Alex Albon

5. Charles Leclerc

6. Lance Stroll

7. Sergio Perez (one place grid penalty taken)

8. Daniel Ricciardo

9. Carlos Sainz

10. Esteban Ocon

11. Lando Norris

12. Daniil Kvyat

13. Kimi Raikkonen

14. Sebastian Vettel

15. Romain Grosjean

16. Pierre Gasly

17. Antonio Giovinazzi

18. George Russell

19. Nicholas Latifi

20. Kevin Magnussen

Jack Nicholls

BBC Radio 5 Live F1 commentator

The panic has calmed down with Verstappen. When it is a software issue it is such a murky thing to comprehend. You can't fix software with your hands!

Tune into radio commentary at the top of this page.

Jack Nicholls

BBC Radio 5 Live F1 commentator

It is a huge celebration for Ferrari. 1,000 grand prix is pretty incredible. Today they are up against Red Bull. Imagine asking someone at the 1950 Monaco Grand Prix what an energy drink is.

Tune into radio commentary at the top of this page.

The Red Bull crew look just about content that they have fixed whatever was up with Max Verstappen's car. I think I remember that look in the eyes of a bloke I bought a 15-year-old Fiesta off once.

Let's see.

Lewis Hamilton is harnessed into the Mercedes cockpit.

It is going to be a gruelling afternoon for the whole of the grid, with big G-forces and the mercury pushing 30 C.

Get Involved #bbcf1

Reverse grids in Formula 1 – good or bad idea?

Jose Thorpe: Mercedes are champions for the past six years based on merit and not through gambling. Reverse grid race does not even add up in here. Other teams should also come up with cars capable of challenging the Mercedes. Red Bull and Ferrari were there for few years as well.

Chris Lord: Reverse grids and different formats of qualifying should only apply at certain tracks. Reverse grids would result in crash galore at Monaco and street tracks, and you aren't a racing fan if thats what you want.

loekieprivat: I agree with Toto Wolff that reverse grid is not a good idea. It can also create dangerous situations . But I disagree with his "best man and best machine wins". That should read "best driver".

More problems for Verstappen

There is a crowd of concerned Red Bull faces around the rear of Max Verstappen's car.

It looks like the engine has overheated. A plume of white steam is spitting out into the Tuscan air.

All hands to the pump with mechanics leaning over each other to get involved with resolving the problem.

A rendition of the Italian national anthem full of wobbling tonsils and fruity brass. You would expect nothing less.

And the drivers get back to their vehicles…

The drivers come together on the start/finish line to show their commitment to racial justice.

Lewis Hamilton is wearing a t-shirt bearing an image of 26-year-old Breonna Taylor who was shot dead by police in Kentucky in March.
Latest Post