With an array of new products launching while its stock gets killed, the opportunity I've been waiting for with Nvidia (NVDA) since taking my initial position last August is coming quickly. The company launched not only its new lineup of GPUs over a week ago, but also revealed the hard work its been putting into an entire ecosystem for gamers.
On August 17th, I told my paying subscribers the GeForce event would be the time to watch the stock as it could be a buy the rumor, sell the news event. It turned out it wasn't because it blew away expectations on the performance and pricing of its latest generation of RTX graphics cards, and the stock rose in the aftermath. That is until the tech market ran out of bullish steam the day after that.
This setup is crucial for investors because the market showed it liked the new product offerings and rewarded the stock by pushing it higher. But the opportunity is found in the market-wide selloff, knowing Nvidia isn't being hammered due to letting down expectations.
The Launch That Lived Up To Expectations
Generally, every other year, Nvidia launches a new generation of consumer graphics cards. These are based on the architecture revealed earlier in the year for the data center and professional division. Last year it was Turing, this year it's Ampere. But what the market and consumers didn't see coming was a massive generational leap at a lower price point.
The high-end 2000 series card labeled the RTX 2080 Ti was the baddest card you could get your hands on in the last year. It was the card to beat coming into this launch, both for Nvidia and for its closest – and really only – competitor AMD (AMD). But Nvidia presented a card on September 1st which was a model range lower, cost two-fifths less, and outperformed its big brother predecessor ever so slightly. The RTX 3070 is now the new consumer-friendly-priced $499 GPU.
But Nvidia didn't stop there; it launched a 3080 and a 3090 version of Ampere. The RTX 3080 is nearly twice as fast as the 2080, 50% faster than the 2080 Ti, and just under two-thirds the price of the latter. The one to one comparison is the 3080 to the 2080 Super – for the same price, it's nearly twice the performance.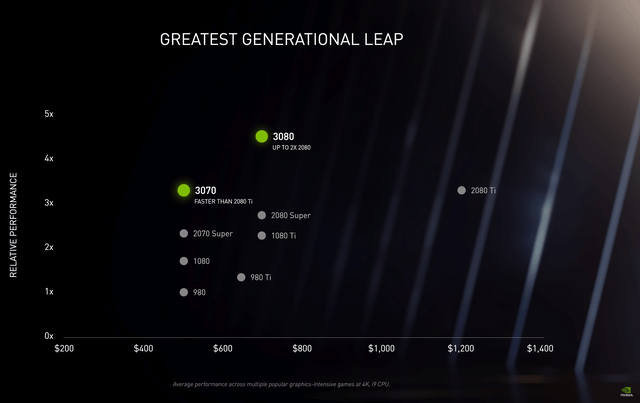 (Source: Nvidia's GeForce Event Presentation Video)
Then there's the RTX 3090, which wasn't compared in a slide in Nvidia's presentation. But, they showed 8K60FPS (frames per second) play from gamers the company invited to demo it. That alone is impressive and doesn't match up one-to-one with any of the previous or new cards. But, for a little more out of pocket than a 2080 Ti, one could double their resolution from 4K to 8K – those with a background in computer engineering know this is a feat in and of itself – but, of course, you would need the peripheral hardware to go with it, like an 8K monitor, for one.
These new Ampere cards have brought Pascal owners (the GTX 10XX series cards) to the table because of the generational leap over the 2000 series cards for the same price of admission. And this alone is reason enough to see growth return to the Gaming division. Compared to the supercharged Data Center division as of late, Gaming hasn't seen the same rocket fuel poured into it.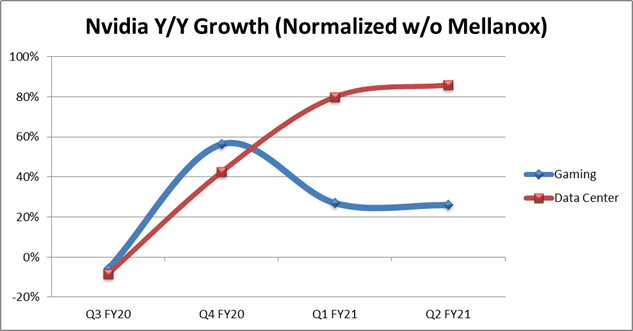 (Source: Chart mine, data from Nvidia's Q2 FY21 Quarterly Revenue Trend slide)
Even without the Mellanox acquisition factoring into the Data Center division's growth (illustrated in my chart above), Gaming has still lagged over the last two quarters. However, this GPU launch should pour some of that rocket fuel into Gaming.
But, what a lot have been glossing over is the auxiliary technology the company has been working on. Nvidia understands gaming is more than a GPU; it's a set of software and hardware coming together to make that one moment in a game just right – to get the kill shot before the enemy even recognizes the danger. This is why Nvidia has been working on higher refresh rate monitors, up to 360Hz, along with its Reflex software to find the latency in a system and optimize it – from mouse to display. The Reflex SDK (software development kit) is what game designers can use to eliminate unneeded queuing between the CPU and GPU. These are enhancements on top of the raw horsepower of its GPU.
The company also introduced its Broadcast app, which eliminates background noise, creates proper virtual backgrounds (Zoom has nothing on this app), and auto framing. This allows gamers who stream their gameplay to have a more professional feel to their live streams. Streaming games is a new phenomenon in the last two years and is expected to grow at a 9% CAGR between 2019 and 2025. The linked report from Mordor Intelligence says, "…the high cost of content creation and lack of awareness is restraining the market growth in the future." Nvidia is tackling both of these issues head-on with not only its awareness and push into R&D specifically for eSports, but bringing this technology into the hands of the next would-be professional gamer. Nvidia is building an ecosystem around its GPUs, combining hardware and software throughout the stack.
How Does This Compare?
You didn't think I would get away without bringing AMD into the picture, did you? No, of course not. Nvidia competes against the ATI division of AMD, and it has been a hard-fought battle on both ends. But what's clear (AMD fanboys hold your finger for a moment) is AMD has been the one with the reaction jabs, not the opening punches.
In the announcement of real-time ray tracing with the Turing 2000 series cards, AMD downplayed the use of RT. I outlined this back in August of last year:
The difference is AMD appears to be downplaying the ray tracing approach. It doesn't believe there is the possibility of having full scene ray tracing abilities on a PC but instead thinks the ability will jump to cloud computing instead. For the time being, AMD plans on using the shader cores of the current and next-generation architecture it has developed to perform 'some' ray tracing abilities on PCs.
This was AMD's stance and strategy; downplay and satisfy with minor tweaks to allow 'some' ray tracing. To say AMD was not caught with its pants down with the pivot into another realm of gaming would be kidding yourself and your investment thesis in AMD. That's not to say there aren't reasons to invest in AMD, but its graphics division is not the one to hang your hat on.
But lest you think ray tracing is a gimmick or isn't necessary, major game developers are getting on board with Fortnite being one of the largest and latest to join. As any new technology goes, it takes months and sometimes years to catch on. For Nvidia, a year and a half later and most major game houses are enabling RTX to bring better realism rather than rasterizing everything and "guessing" on the lighting during gameplay.
With this in mind, AMD will not likely be competing on the ray-tracing front in any meaningful way, even in its next launch. Yes, it will be supporting the consoles of Microsoft (MSFT) and Sony with ray tracing enabled, but it will be using Nvidia's development to do so. AMD has latched on to the same Microsoft DX12 ray tracing developed by Nvidia and Microsoft.
Nvidia paved the way, AMD followed.
But even then, the principal architect for the new Xbox console, Mark Grossman, is not that enthusiastic about what can happen with AMD's RDNA2 architecture.
But while Microsoft has indeed worked with AMD to ensure there is some level of ray tracing support inside the Xbox Series X GPU, Grossman doesn't seem to be that enthused about how readily it will be utilised.

"We do support DirectX Raytracing acceleration, for the ultimate in realism™, but in this generation developers still want to use traditional rendering techniques, developed over decades, without a performance penalty," says Grossman sadly. "They can apply ray tracing selectively, where materials and environments demand, so we wanted a good balance of die resources dedicated to the two techniques."
The performance penalty is because the AMD RDNA2 architecture is not up to the task. Why? Because AMD wasn't ready for this next generation of gaming, and the solution was to downplay it. Now its customers have to downplay it. Because the performance couldn't be there for a mostly ray tracing experience, Microsoft had to scale it back and support both the 'old' rendering ways and the new ray tracing methods.
Nvidia, on the other hand, has worked hard to dedicate cores to rendering and ray traying as smooth as possible. Yes, there were some kinks to work out in the 2000 series cards, but the 3000 series cards and DLSS 2.0 seem to have brought to life everything everyone hoped for in the inaugural RTX launch. The key is this piece right here, which some have complained about before the Ampere launch:
A new AI network more efficiently uses Tensor Cores to execute 2X faster than the original. This improves frame rates and eliminates previous limitations on which GPUs, settings, and resolutions could be enabled.
AMD is not the leader in graphics, and in another "death by a thousand cuts," is now losing ground in the performance versus price war on the PC side, too. An article from PC Gamer has tried to fit AMD into the RTX 3000 conversation by saying the RDNA2 consumer GPU will land between the 3070 and 3080. But, AMD is rumored to have slashed the pricing to remain competitive – before the product has even been announced! If you have to cut pricing before the hardware is even revealed, you have been caught off guard. The PC Gamer article eventually admits that much:
If the potential pricing shift is actually true—and we won't know until AMD actually unveils its new GPUs, so salt shakers at the ready, people—then it's looking like the performance and positioning of the Nvidia cards might have surprised the red team. The existing rumours have pegged the flagship Big Navi card with gaming performance ahead of the RTX 2080 Ti, but only to the tune of around 15% in best case scenarios.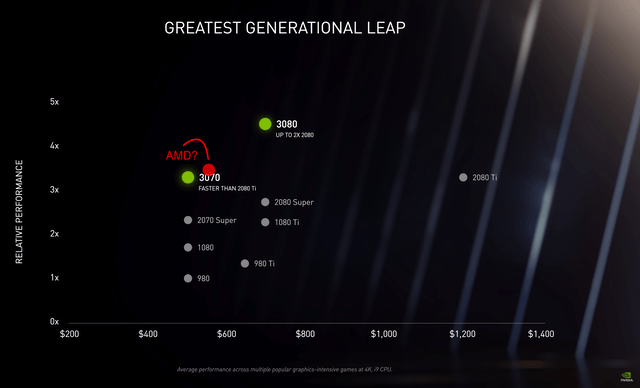 (Source: Nvidia GeForce Presentation, red edits mine)
So if the Big Navi card, which is comparable to the RTX 3070, except for its 16GB of RAM versus the 3700's 8GB of RAM, comes in at $549, Nvidia's $499 proposition may be much more enticing considering AMD has no AI or ray-tracing-forward capabilities. Add in the fact ATI/Radeon's drivers have always lacked, and the less-expensive card may be better in every aspect except VRAM. If AMD were to release a one-for-one 3070 equivalent with the same VRAM for the same price, well, don't expect the 15% 2080 Ti gain to remain.
We're not done throwing punches, though.
Nvidia is rumored to have a 3070 Ti waiting in the wings to outdo AMD when the latter finally reveals its hand. If that's true, AMD is not just behind the eight-ball but is now playing catch-up with the game of catch-up a good-odds-whack-a-mole for Nvidia; if AMD releases something, Nvidia is already prepared with another performance level card.
AMD is a generation behind at every turn. Flagship-to-flagship, AMD is competing with the 2080 Ti – last generation's flagship model. Nvidia's flagship model is now the RTX 3080, with potential Ti models still waiting to be announced.
At one time, when performance was based on the same metrics and same rasterization techniques, AMD had the ability to at least stay in the draft of Nvidia. But with Nvidia departing into a different lane with real-time ray tracing, AMD said the middle lane was still the best – to its chagrin. But it turns out the fastest lap times are in the bottom lane of the track, and Nvidia is pulling away.
But The Stock Is Getting Killed
This is where we pull together this announcement and the stock price. The launch presentation left little to be desired and 'killed it' on all levels. Nvidia pretty much did what it had to for it to remain the best experience in gaming. Not only that but it gave Pascal owners a serious reason to upgrade and not to "just-have-the-best-product" reputation among peers, either (myself included).
But, since the launch event, the stock has been on a wild ride – mostly down. However, the entire technology sector has been reeling, bringing down other large names like Apple (AAPL), Microsoft, AMD, Netflix (NFLX), and Alphabet (GOOG)(GOOGL). Therefore, the drop in Nvidia's shares is not indicative of a bad product or positioning.
What is happening though, is the opening up of an opportunity to continuing adding shares on weakness during business strength. For a while, the stock continued to climb unrelentingly, bringing with it its valuation to historic highs. But recently, the tech-wide selloff has reduced the valuation some.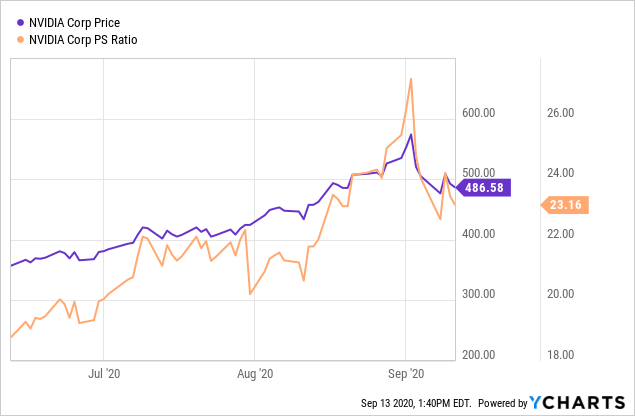 There is still more for Nvidia to fall as it closes in on its historical range. However, given the Mellanox synergies and potential ARM (OTC:ARMHF) acquisition at hand, it may not return to the historical range around a 15-17 price-to-sales multiple. At that multiple, the stock would trade for less than $200. Given the growth opportunities with the latest generation of RTX cards, the outperformance of the Data Center division, and the continued push into becoming a go-to provider of cloud infrastructure, Nvidia will likely trade near a 21-22 multiple for the foreseeable future. This means I'm looking for Nvidia to fall under $400 before adding more shares.
The stock has recently fallen out of its ascending channel on heavy volume. The potential for more downside from either the ARM acquisition being announced, the overall tech selloff continuing, or both present an on-going opportunity.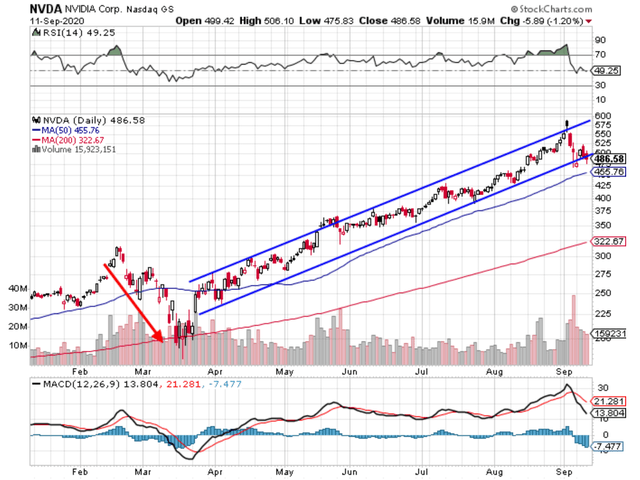 The opportunity is still unfolding, and I'm willing to be patient to build my position in Nvidia as it finds further growth in emerging markets like eSports and builds further dominance into the data center from multiple sides and use cases. The supremacy in gaming won't relent into the next year, and Nvidia has positioned itself well for a competitive landscape between console and PC. I see PC Gaming and data center as two businesses still largely growing in the next four quarters.
Make Cash With My Cache
Get alerted to my tech sector analysis by clicking the follow button at the top of this page next to my name. Get the kind of technology know-how combined with technical chart analysis you just read on Nvidia for many other tech stocks by joining my Seeking Alpha service Tech Cache. You also get real-time chatroom access to ask me followup questions and hear ideas of other Tech Cache subscribers. Right now, you can try it risk-free with a 2-week free trial! And, because I reached 10,000 followers last week, you get 10% off!
Disclosure: I am/we are long NVDA. I wrote this article myself, and it expresses my own opinions. I am not receiving compensation for it (other than from Seeking Alpha). I have no business relationship with any company whose stock is mentioned in this article.
Additional disclosure: I am also long OCT 16 AMD puts as a proxy for a tech market hedge.