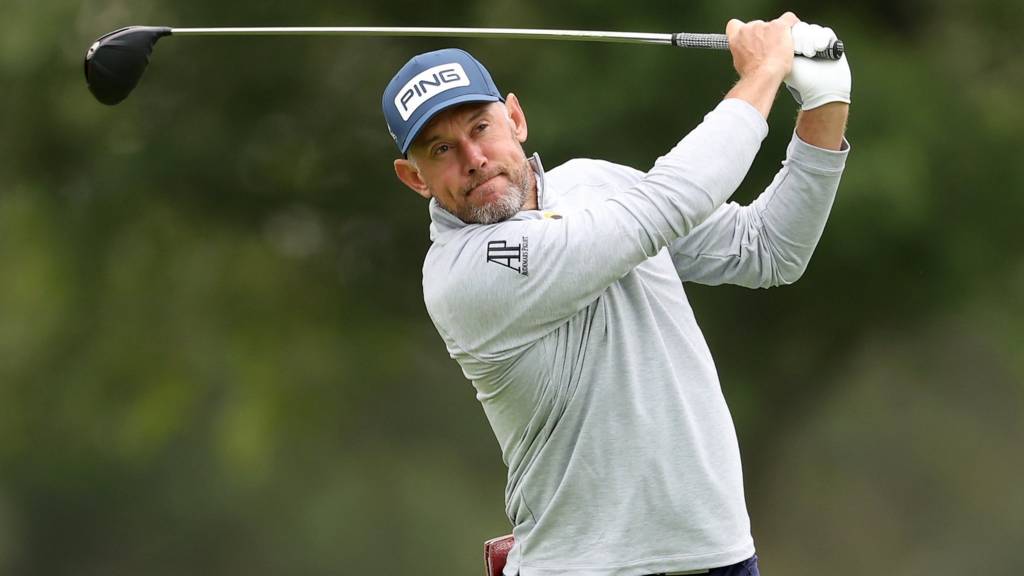 Got a TV Licence?
You need one to watch live TV on any channel or device, and BBC programmes on iPlayer. It's the law.
Live Reporting
Steve Sutcliffe and Michael Emons
All times stated are UK
First birdie of the day for Westwood

-1 Westwood (9)

Getty ImagesCopyright: Getty Images

After three bogeys today, England's Lee Westwood has scooped his first birdie of the day at the 557-yard par-four ninth.

It could've been even better for the 47-year-old, who is still looking for his first elusive Major, as he missed an eagle-putt attempt from 17 feet.

That's Westwood back down to one under overall and a position of tied 10th.

Pieters pars

-4 Pieters (12)

Thomas Pieters stops the rot on the 615-yard par-five 12th. He's on the green for three and two putts for par.

The way the course is playing, I reckon he'd fancy his chances to be leader tonight if he can play final third of his round in level par.

It's as we were, with Justin Thomas back in the lead, after Thomas
Pieters' back-to-back bogeys.

-5 Thomas (18:27)

-4 Pieters (11), Reed (18:16)

-3 Wolff (6*), McIlroy (18:27)

-2 Finau (7*), Kokrak (17:32), Todd (17:54), English (17:54)

-1 Cabrera Bello (9*), Westwood (9), Watson (9), DeChambeau (7*),
Oosthuizen (7), Rahm (6*), Schauffele (5), Thompson (a) (17:54)

17th (Well-Well)

504 yards, par 4

This medium length dogleg right hole requires precision with both the tee and approach shot. The kidney-shaped green is very narrow, making recoveries from the left or right equally difficult.

Getty ImagesCopyright: Getty Images

DeChambeau knocks in 40-foot putt

-1 DeChambeau, -2 Finau, +1 Johnson (7*)

Getty ImagesCopyright: Getty Images

All three are just off the edge at 16…

The cut there is short enough for a putter mind so not like some of the lies you get on your local municipal.

And that was never in doubt from Bryson DeChambeau who drops in an effort from almost 40 feet. There was literally no movement in that one at all.

DJ is up next from an almost identical position but he needs two bites of the cherry to make par, as does Tony Finau from the left.

Mickelson misses ambitious birdie attempt

+9 Mickelson (6*)

Getty ImagesCopyright: Getty Images

Phil Mickelson, on nine over, needs something special and nearly finds it with an aggressive 30-foot, right to left, downhill birdie attempt on the 15th. "Come on," screams the American as it heads hole-bound, but it is not to be and he can only manage a par.

Only the top 60 and ties at the end of this round will make the cut and Mickelson is a long, long way off that at the moment. He's at level par today, but his Thursday shocker looks like costing him dearly.

Berger's birdies

E Berger (8)

Daniel Berger is one of a handful of players who seem to be dealing well with Friday's tougher conditions at Winged Foot.

The American, who won the first PGA Tour event back after the coronavirus break, has just curled in his third birdie of the day on the eighth to get back to level par overall.

Superb save from Rahm

-1 Rahm (6*)

Jon Rahm has to play his third stroke at the par-four 15th testing his balance and playing up a hill after overcooking his previous shot.

A great up and down at least gives him a chance to come out of this one unscathed and he sinks the nine footer for a superb save. He stays at one under overall.

Pieters stuttering

-4 Pieters (11)

Is Thomas Pieters' bubble about to burst?

A poor tee-shot at the par-three 10th leads to a first bogey of the day.

And life is not getting any easier on the 11th. A wayward tee shot leads to a second that stays in the rough. A chip and a putt needed for par. No. His eight-footer dives left and just like that, it's two shots gone and Justin Thomas is back in the lead.

16th (Hells-Bells)

498 yards, par 4

The lengthy, dogleg left 16th will likely play the toughest on the back nine. The left side of the hole is protected by trees, including a large maple short left of the green.

Getty ImagesCopyright: Getty Images

Rahm goes long

-1 Rahm (5*)

The wind is picking up and Jon Rahm has a bemused look on his face as he balloons one very long at the 15th and he will do well to not drop a shot at this par four.

Post update

E DeChambeau, -2 Finau, +1 Johnson (6*)

Ohhhhhh. Almost a sensational eagle from Tony Finau who zips his second a few feet past the pin on 15 and then watches it spin back and trickle just past the hole.

Still he'll have an almost unmissable birdie chance to regain the shot he lost at the last.

DJ is also on the money with his approach and drops in his putt to leave him six shots off the lead…

Muscle-man Bryson DeChambeau is fine from tee to green but his putter is definitely running cold as he three putts for another bogey.

Rousaud rocking

+16 Rousaud (9*)

You may recall that Spanish amateur Eduard Rousaud had the most incredible start on his US Open debut on Thursday.

The 20-year-old holed his second shot, from 130 yards, to be two under after one hole and ended the round with a reasonably decent 76.

Sadly, he's struggling a bit today. He started on the 10th and had three double bogeys and four bogeys in his first nine holes and is currently propping up the leaderboard on 16 over

Rahm stays on one under

-1 Rahm (5*)

Getty ImagesCopyright: Getty Images

World number two Jon Rahm started round two on one under and he's still there after bogeying the 10th (his starting point) and then collecting a birdie at the 11th.

Watch: Two holes-in-one on opening day of US Open

Now if you need some help with how to play a par three well this would not be a bad template to follow.

What am I saying/writing/typing. It's ridiculously good.

Video content

Video caption: US Open: 'Are you kidding me?' Two hole-in-ones on opening day of US Open

There's about half the 144-strong field out playing right now and only six players are under par. Is Winged Foot biting back?

Bogey for Fleetwood

+6 Fleetwood (5), Casey (4*)

Getty ImagesCopyright: Getty Images

Tomny Fleetwood is another Englishman falling down the leaderboard. The world number 15 was on four over at the end of day one and started with a birdie on the first on Friday.

But that's been the only bright spot so far as a double bogey followed at the second, with another dropped shot just now at the fifth for six over.

His compatriot Paul Casey is also on six over after pars at each of his opening four holes today.

Thomas Pieters still leads after the front nine and Cabrera
Bello is another European up there, at -3 after six holes.

-6 Pieters (9)

-5 Thomas (18:27)

-4 Reed (18:16)

-3 Cabrera Bello (6*), Wolff (3*), McIlroy (18:27)

-2 Finau (4*), Oosthuizen (4), Kokrak (17:32), Todd (17:54), English
(17:54)

-1 DeChambeau (5*), Rahm (4*), Schauffele (3), Thompson (a)
(17:54)

Post update

-1 DeChambeau, -1 Finau, +2 Johnson (5*)

Bryson DeChambeau's rollercoaster start continues as he finds the centre of the cup with with a 10-feet putt on the 14th.

But Tony Finau drops a stroke after pushing his approach left and struggling to get up and down.

DJ is looking solid enough albeit a tad frustrated as he drops in close-range putt for par.

On Thursday we had the second lowest opening round in US Open history…

Will the low scoring carry on today? It seems like the general consensus is that today Winged Foot will show its fangs.
Latest Post