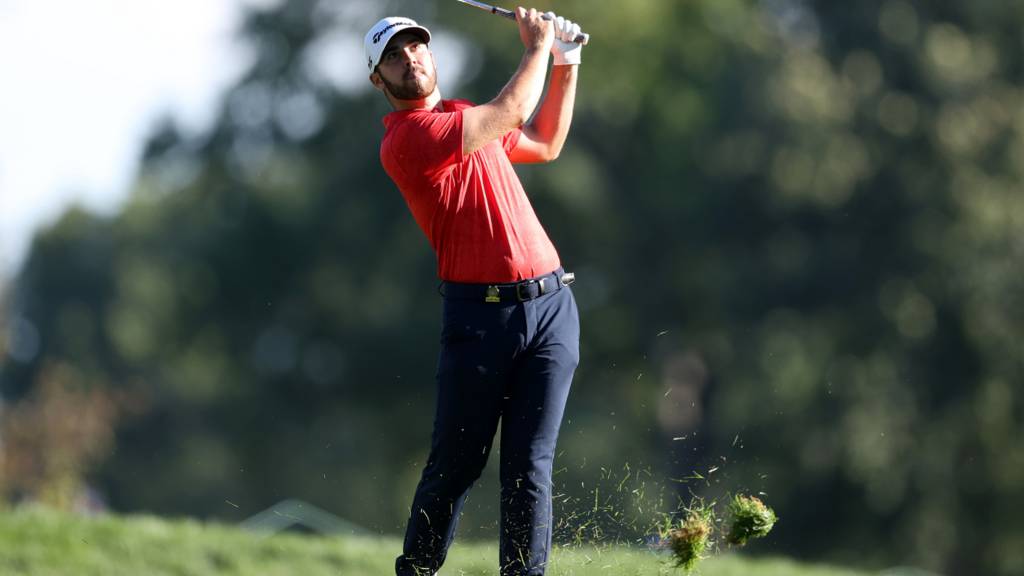 Got a TV Licence?
You need one to watch live TV on any channel or device, and BBC programmes on iPlayer. It's the law.
Live Reporting
Alex Bysouth and Michael Emons
All times stated are UK
Post update

+4 McIlroy (5)

Rory McIlroy is slightly offline with his tee shot down the fifth and his ball finds the first cut. Just an inch deep that stuff.

But again he is short with his second, 20 yards short. Another big miss. I know this is a tough course but Rory is not helping himself a great deal.

Great up and down though for par. Birdie chance coming up on six.

Who will be top dog from England?

+5 Westwood (12), Casey (11); +15 Wallace (17)

There's a good battle going on to see who is going to be the best finisher from England.

Lee Westwood and Paul Casey both started on five over, outside the top 20, and they're both still on the same score after 12 and 11 holes respectively.

That's moved them both up to tied 13th, eyeing up a top-10 spot.

The third Englishman left, Matt Wallace, is 15 over and tied 44th coming up to the last.

The stats…

-4 Wolff, -3 DeChambeau (3)

If Matthew Wolff completes the win, it will be 107 years, to the day, since 20-year-old amateur Francis Ouimet claimed the title at his first attempt after winning a US Open that had also been delayed from June to September.

This year's was pushed back because of the coronavirus pandemic. Back then, it was to allow six-time Open champion Harry Vardon and fellow Briton Ted Ray to play. Ouimet, who famously had a 10-year-old caddie, beat them both in an 18-hole play-off.

Wolff would also become the youngest man to win a major since Tiger Woods claimed the first of his 15 at the 1997 Masters.

Wolff's lead cut to one

-4 Wolff, -3 DeChambeau (3)

Now then, can Matthew Wolff polish off an unlikely par at three? He did remarkably well to stick his second from the trees close.

Nope, narrowly right and he grunts in frustration. It's bogey, and the lead is cut to one.

Bryson DeChambeau clipped his second from the fringes to within a putter's length for his third par of the day.

Bogey for Schauffele

+1 Schauffele, +1 English (4)

Xander Schauffele is having to work hard. Three scrambled pars but he comes unstuck at four after a wayward tee shot that skewed right into some tree coverage. Looks like he had to take an unplayable drop there before firing one up to the front of the green and making it up and down for bogey.

Post update

-5 Wolff, -3 DeChambeau (2)

What can Matthew Wolff do here? He spots a gap in the trees and manages to coax a chip on to the smooth stuff to give himself a chance of saving par. That's some shot.

Wolff in trouble on three

-5 Wolff, -3 DeChambeau (2)

Bryson DeChambeau takes a four iron to the 247-yard par-three third and gives it a touch too much. Yeah, me too…

Matthew Wolff, with a hybrid and his trademark shuffle, drags it a long way left. It nestles down between the trees and almost trickles on to another tee box.

He hangs his club up left, looks at the ground, and wonders what went wrong there.

Matsuyama struggles again

-1 Oosthuizen; +4 Matsuyama (3)

A superb save from Louis Oosthuizen on the 247-yard par three after a tee shot he would not want to ever see again. But he remains on one under, hoping the two ahead of him slip up.

While there will be a smile on Oosthuizen's face, there will be a grimace on playing partner Hideki Matsuyama's.

That's another bogey, meaning he's dropped four shots in three holes and he's rocketed up to four over. His hopes of becoming the first Japanese man to win a major may have ended inside 45 minutes.

Pars for the leaders

-5 Wolff, -3 DeChambeau (2)

It's a loooong birdie putt for Bryson DeChambeau, 40-odd feet. He rolls it up to four or five feet for a look at another par. In it goes.

Matthew Wolff has a 20-footer for birdie. He zips it straight at the cup, but it puts the brakes on a touch short. A tap-in par. Good start.

Get involved – is it too easy to 'drive and gouge'?

#bbcgolf

Big talking point this… the set ups at US Opens are always tricky, no more so than at Winged Foot, where only one of the previous five winners has finished under par.

But does Lee Westwood have a point? Matthew Wolff only made two of 14 fairways yesterday, but signed for an impressive five-under-par 65. In fact, Wolff's only made 12 of 42 in the opening three rounds, the fifth fewest of the players to make the cut.

Bryson DeChambeau only made three yesterday, and 40% for the week, yet sits two off the lead at three under par.

Both are among the longest drivers on Tour, so are today's modern players managing to overpower even the toughest of golf courses? Bombing it long and taking their chances from the rough?

Barry Brett-McStay:Curious how many shots Rory has dropped from middle of the fairway with short irons in hand over the past days – really seems like he's thrown a lot away, especially in Rd 2 and today. Usually you have to try save strokes from the rough at a US Open not the short stuff!

-5 Wolff (1)

-3 DeChambeau (1)

-1 Oosthuizen (2)

E Schauffele (3)

+1 English (3)

Selected:

+3 Matsuyama (2)

+4 McIlroy (4)

Bogey for Matsuyama

-1 Oosthuizen; +3 Matsuyama (2)

Hideki Matsuyama has now dropped three strokes in his first two holes. A double bogey at the first, then he got bogged down in some early rough on the second, before missing a par-saving putt from 21 feet.

Louis Oosthuizen has had a much calmer start with two pars, although he's just pulled his tee shot offline on the third.

Post update

-5 Wolff, -3 DeChambeau (1)

Good golf from the leading group so far. No sign of any pressure for either Matthew Wolff or Bryson DeChambeau – both making fairways and greens through their opening two holes.

Winged Foot looks easy when you play it like this.

Another shot gone for Rory

+4 McIlroy (4)

Rory McIlroy's chip on to the fourth green gets 7/10. No bite on the ball and it runs three, four, five feet past the hole.

I remember the 2013 US Open when Justin Rose seemed to be knocking in putts from that kind of length for fun as he went on to win.

Can Rory drain this. No! Tugged it a couple of inches. Another shot gone and that could well be that for the world number four.

Schauffele scrambling well

E Schauffele, +1 English (3)

Oh, Xander Schauffele. He comes up well short on the par-three third – where 1959 champion Billy Casper opted to lay up each day – and finds the thicker fringes, but clips out to within a putter's length.

It gets a smattering of applause from some onlookers neighbouring the course, and he scrambles to another par.

Post update

-5 Wolff, -3 DeChambeau (1)

Matthew Wolff only hit two fairways all day yesterday. He's already found the opening two today. Bryson DeChambeau only made three, mind, and he's nailed the middle of both so far.

Can anyone come from that far back at Winged Foot?!

Another wasted opportunity for Rory

+3 McIlroy (3)

Rory McIlroy's radar is not working just yet. He is in prime position down the middle of the fourth fairway, just 130 yards from the pin. But again he is short and his ball spins back off the front edge of the green.

After that double on the first you feel he's going to have to get to at least level par to have any chance.

Former Ryder Cup man Edoardo Molinari is expecting this to be a very tough day for everyone out there.
Latest Post