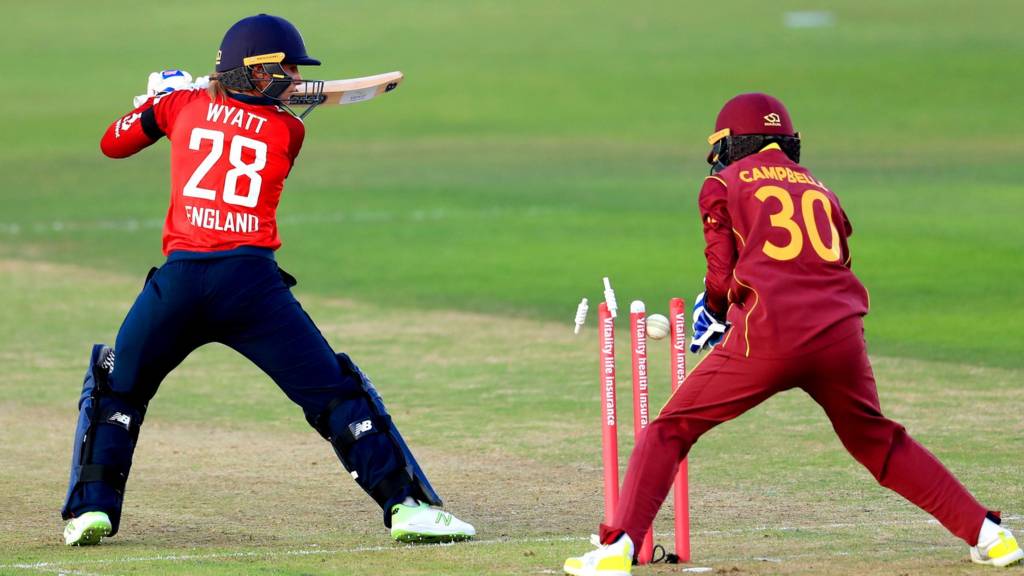 Got a TV Licence?
You need one to watch live TV on any channel or device, and BBC programmes on iPlayer. It's the law.
Live Reporting
Kal Sajad
All times stated are UK
Matthews continues, it's wide and it's carved by Glenn down to point for four.

Phil Simmons

West Indies men's coach on Test Match Special

It's been a brilliant spell by Selman, especially those last couple of overs. West Indies have pulled it back. England have to make sure they keep scoring, not just giving wickets away.

In comes Fran Wilson, a single to Glenn gives England just one from the rest of the over.

Really well bowled by Selman who completes her four overs, conceding 26 runs and taking three very good wickets.

Alison Mitchell

BBC Test Match Special

That is the pressure that grew. Jones had to try to hit it away.

WICKET

Jones 24 c Alleyne b Selman 24 (Eng 144-6)

The wheels coming off for England a bit here? It's a full toss from Selman and Amy Jones finds Alleyne at deep cover.

That 180 score is looking increasingly unlikely now. Amy Jones drives straight to the woman at mid-wicket as Selman starts off with just one single off the first few balls.

Amy Lofthouse

BBC Sport at Derby

This actually isn't a bad situation for England. There's always been a worry that there's an overreliance on Sciver and Knight to score the majority of runs, with Brunt adding a bit of lower-order boshing. Having Beaumont make good runs and Jones find her range is a good sign.

Sarah Glenn is promoted up the order but it's Amy Jones who stars in the rest of Matthews over, reverse-sweeping for four. She's played that shot so well today.

Phil Simmons

West Indies men's coach on Test Match Special

Katherine Brunt plays in one way. She has been stumped by a long way.

WICKET

Brunt st Campbelle b Matthews 0 (Eng 143-5)

A golden duck for Brunt and it's an ugly way to go. She comes down the wicket to Matthews, takes a huge swipe and completely misses. She doesn't even bother looking back as Campbelle whips off the bails.

Isabelle Westbury

Ex-Middlesex captain on TMS

Hayley Matthews is only young, but is so experienced. She has a job to do now.

Hayley Matthews went for 10 in her first over and she now returns for a second spell.

A single completes the over. Katherine Brunt is the new batter in, by the way.

Isabelle Westbury

Ex-Middlesex captain on TMS

You felt like the ball would run away from her. She held her nerve. There was a little bit of a juggle, but that doesn't matter. West Indies needed that.

WICKET

Beaumont c Fletcher b Selman 62 (Eng 136-4)

A fine innings comes to an end.

It seemed to be a slower ball from Selman and Tammy Beaumont looks to play another innovative shot but this time the reverse-paddle goes high but not far. Fletcher, running back, takes a good grab at short third man.

Phil Simmons

West Indies men's coach on Test Match Special

England will be looking for another 40 runs at least, especially with Tammy Beaumont still there.

PA MediaCopyright: PA Media

Shakera Selman continues and a low-key start to the over, just four singles from the first four balls. Big shot incoming?

Alex Hartley

England spinner and World Cup winner

It's realistic to go at 10 or 12 an over from here. That would be a massive score that would put West Indies out of the game.

A dot ball, a wide and another dot ball. A nice finish from Alleyne but England are in control here. What's a good score from here? 180? 190?

Full, on leg side and Amy Jones easily clips it past a short fine leg for four. There to be hit but nicely worked by Jones who is looking in great nick.

Make that back-to-back boundaries! Another ball in pretty much the same position, but this time it's a full toss and, again, dispatched to the boundary.

Poor bowling from Alleyne.
Latest Post