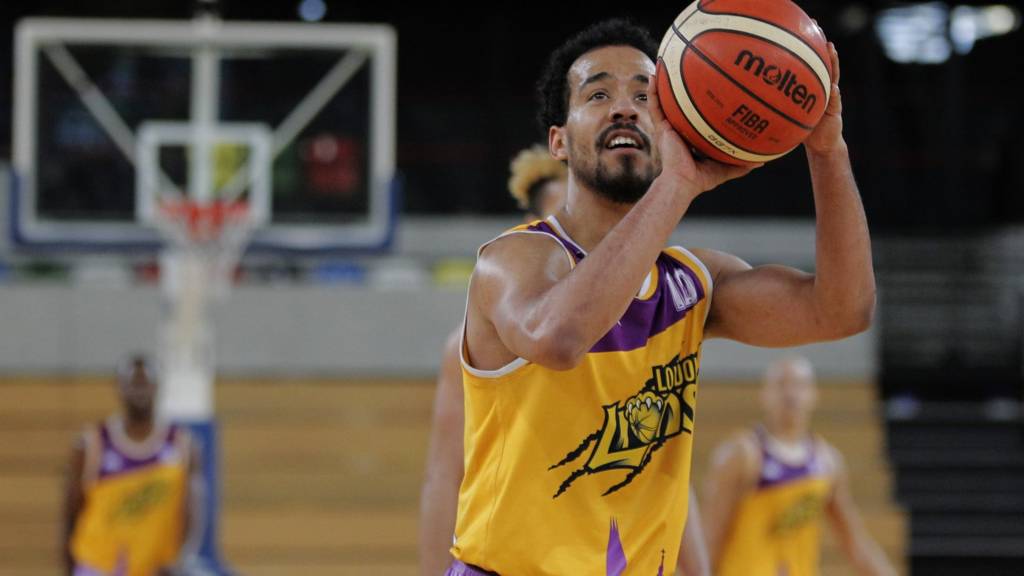 LiveLive
Qualifier: Neptunas Klaipeda v London LionsBBC Sport
Got a TV Licence?
You need one to watch live TV on any channel or device, and BBC programmes on iPlayer. It's the law.
Lions' potential route through Europe

If London Lions get through their potential two games this week with two wins, they will qualify for the group stages of the Champions League and will be scheduled to play their first game – away to Germany's Bamburg – in just three weeks' time.

Their other opponents will be teams with a great deal of European experience – AEK Athens (Greece), Hapoel Holon (Israel), Bilbao (Spain), Karsiyaka (Turkey), Fortitudo Bologna (Italy) and France's Cholet, a team former England and NBA player John Amaechi spent time with during his career.

If Lions fail in their first attempt to reach the Champions League group stages, they will play in the Europe Cup, where they will play three other teams in a group that has been rescheduled to begin in the new year.

Those three teams will be decided from this week's qualifiers with Lions' future opponents coming from Portugal or Switzerland, Ukraine or Netherlands and Poland or Belgium.

London Lions a fairly major force – Vince Razaq

Getty ImagesCopyright: Getty Images

London Lions are a "fairly major force" and are ready for the Champions League qualifiers, says coach Vince Razaq.

The Lions face Lithuania's Neptunas Klaipeda in Bulgaria on Tuesday in the first of two potential ties as they try to secure a place in the last 32.

If they qualify, they would be the first BBL team to play in a top-flight European tournament for 17 years.

"Is this the biggest game in British basketball for a long while?" said Razaq. "I think it probably is."

With the aid of foreign investors, the Lions have built a team designed to play in Europe.

They won a league and cup double in 2018-19 – the last season completed before the coronavirus pandemic.

What is the Basketball Champions League?

The Basketball Champions League is an annual competition for European clubs, organised by Fiba, the world governing body for basketball. Clubs qualify for the competition based on their performance in their national leagues and cup competitions, although some clubs can receive a wildcard.

London Lions have been handed a tough qualfying round tie in their first season in the Basketball Champions League as they face Neptunas Klaipeda. The Lions hope to become the first British side to play at the top level in European club competition since London Towers played three seasons in the Euroleague from 2000-2003.

If the Lions can beat the Lithuanian side on Tuesday, they will face the winners of the other qualifying match, Tsmoki-Minsk of Belarus and Bulgaria's Balkan Botevgrad, for a chance to enter the eight team group stages.

The Lions will look to some of their big names in securing victory including Justin Robinson, who was named the British Basketball League's player of the year in 2018 and 2019, former NBA player Byron Mullens and Matthew Bryan-Amaning, who was part of the London Royals side who beat the Lions in the 2019 Trophy Final.

Getty ImagesCopyright: Getty Images

How can I watch?

All times are BST and subject to change

You can watch full live coverage from of London Lions' Fiba Basketball Champions League qualifier against Neptunas Klaipeda on the BBC Sport website and Connected TVs – you can also watch live on the BBC iPlayerhere, where the match will also be available on catch-up afterwards.

Fiba Basketball Champions League first round qualifying – Neptunas Klaipeda v London Lions14:20-16:30 BST – Red Button, BBC Sport website and BBC iPlayer

How to get into basketball

BBC Sport

Video content

Video caption: Basketball Tricks: How to spin a basketball

Basketball can be played by people of any age, size or ability and with thousands of outdoor courts across the country – where you can play for free – there's plenty of places to practise if you don't fancy competing with a team.

Basketball is a fun, fast and stamina-building sport with players burning up to 600 calories an hour.

With clubs across the country, it's a great way to meet new people and develop teamwork and communication skills and many clubs offer a variety of social events away from the court.

Find your local club by visitingEngland,Scotland,WalesorNorthern IrelandBasketball Association websites.
Latest Post