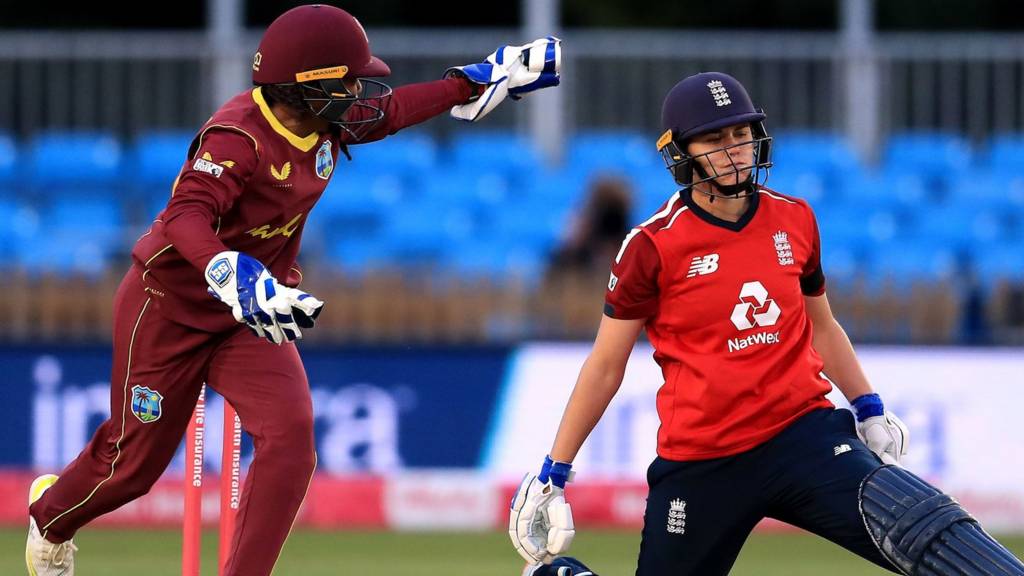 Got a TV Licence?
You need one to watch live TV on any channel or device, and BBC programmes on iPlayer. It's the law.
Live Reporting
Jack Skelton
All times stated are UK
Katherine Brunt throws the kitchen sink, bathtub and paddling pool at it.

A streaky four off the outside edge through the vacant cordon.

Stop giving Sarah Glenn width!

Another wide one is slashed out to deep cover, where Britney Cooper puts in a sublime stop to save the boundary.

England still pick up three.

Shamilia Connell returns and Sarah Glenn greets her by scything a short, wide ball over backward point and away for four.

Michael McNeil:Listening from the River Avon. Fire roaring, the sound of rain on the roof and cricket on TMS – we should play deeper into the autumn more often!

Phil Simmons

West Indies men's coach on Test Match Special

West Indies have picked themselves up from Monday. They are giving it everything.

Glenn taps and goes to Dottin at point. Risky, but Dottin's throw misses and Glenn gets home.

A dot ball to finish as Brunt misses with a big drive.

Four more the other side now!

Shakera Selman strays wide and Sarah Glenn cuts it firmly through point to the fence.

This is turning into a very handy knock by Glenn.

Windies have left deep square leg open throughout this innings.

Sarah Glenn can therefore rolls her wrists and flick a length ball through there for four, knowing there's no risk of being caught.

Plenty of drops but also some fine catches by West Indies so far.

Video content

Video caption: Cooper takes a low catch on the boundary to dismiss England captain Knight

Phil Simmons

West Indies men's coach on Test Match Special

West Indies will be looking to restrict England to 130. They know England bat deep.

Eng 111-6

Brunt 4, Glenn 10

Key last three overs in store for both sides.

A very tough chance but a chance nontheless.

Sarah Glenn slashes at it and gets a very fine nick off the toe end.

Shemaine Campbelle can't pouch it though.

Phil Simmons

West Indies men's coach on Test Match Special

Taylor turned things around with the ball, but the energy in the West Indies team has been Campbelle.

England hit 163 in the first T20.

What can they manage here? Surely they'll want 130 at least.

Eng 108-6

Brunt 3, Glenn 9

A slight mix-up between Brunt and Glenn before the latter does manage to scurry through for the single.

Glenn tucks the last round the corner for one. Good over for England – nine from it.

Shot! Sarah Glenn gives herself room and chips it over mid-off and away for four.

Alex Hartley

England spinner and World Cup winner

West Indies look so much a better team from the first game. You can see by how they are diving about in the field.

Some unsightly dismissals for England tonight.

Video content

Video caption: Kirby takes a good catch as England fall to 85-4

Katherine Brunt swipes the last ball out towards wide long-on but some decent fielding denies her the boundary.

England need a late flurry to post a challenging total here.
Latest Post