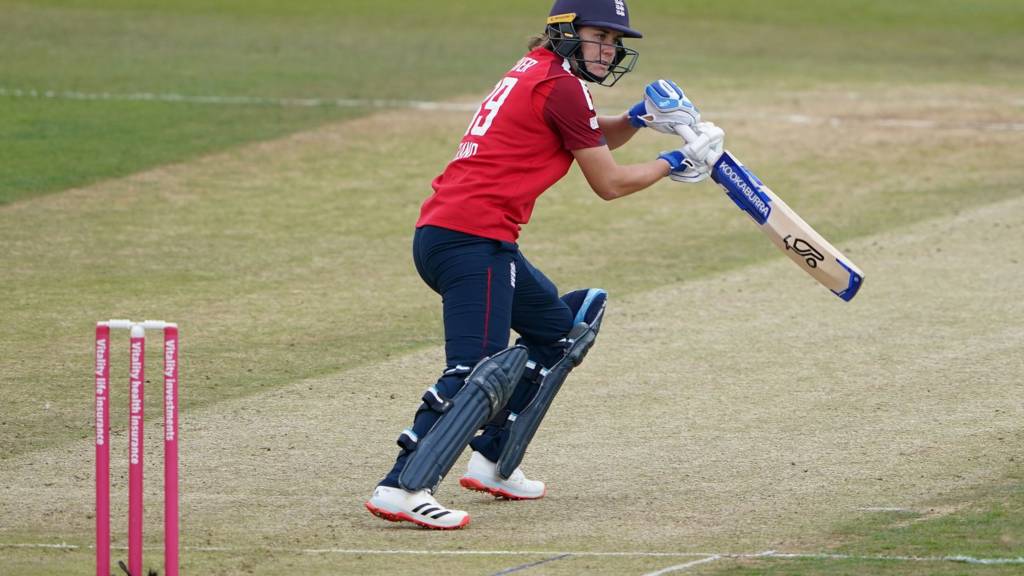 Got a TV Licence?
You need one to watch live TV on any channel or device, and BBC programmes on iPlayer. It's the law.
Live Reporting
Callum Matthews
All times stated are UK
In case you're just joining us, England posted 154-6 from their 20 overs.

It was largely thanks to a brilliant 61-ball 82 from Nat Sciver. You can watch highlights of her innings below…

Video content

Video caption: Watch the best of Nat Sciver's 'brilliant' innings

Good stuff from Anya Shrubsole as she ends the over with two dot balls.

It's been a decent start from the Windies but they still need 92 off the final 10 overs. It's going to take something special against this talented England bowling line-up.

Shot! There's that customary power from Deandra Dottin as she gets down on one knee and heaves Anya Shrubsole over mid-wicket for four more.

Another change as Anya Shrubsole comes back into the attack…

Jenny Gunn

Ex-England bowler on BBC Two

Amy has learned a lot from Sarah Taylor. She has played a lot of indoor cricket, so standing up is natural for her.

An over of two halves this one.

England and Sarah Glenn start with four dots before two wides – one of which is harshly called. Hayley Matthews takes advantage of the two extra balls by pulling for a couple of before crushing a gorgeous drive away for four. That's a superb shot.

Here are the two wickets to fall so far.

The first one is well worth a watch from Amy Jones' superb wicketkeeping.

Video content

Video caption: Jones stumps Kirby with a brilliant piece of work

Video content

Video caption: Brunt and Shrubsole combine to remove Campbelle

Heather Knight continues to roll the changes as Nat Sciver comes back into the attack.

It's a good over for England with just six coming off it. The required run-rate creeps up again to 8.79.

Miss the power-hitting masterclass during the interval? Fear not – you can watch it here.

Video content

Video caption: BBC Pundits give power hitting masterclass

Excellent first over from Sarah Glenn with just three singles coming off her first over.

Stafanie Taylor is warming up on the touchline – she's doing some shuttle runs and loosening her shoulders. She knows she's probably going to have to play a big part in this chase if West Indies are going to win.

Another change for England as Wednesday's player of the match Sarah Glenn comes into the attack.

Richard Torpey:Cricket is always exciting when the wicketkeepers are in the game.

Finally, at the fourth time of asking in the over, Deandra Dottin finds the gap in the off-side field and powers away a cut shot to the fence.

That's a good powerplay for West Indies but the required run-rate has crept up to 8.21.

Isa Guha

Ex-England bowler on BBC Two

That's a missed run-out opportunity for Amy Jones. Dottin on 21 – how costly is that going to be for England?

Alex Hartley

England spinner & World Cup winner on BBC Two

I don't know what to say. I can't work out what's happened.

Absolute chaos!

Deandra Dottin rocks onto the back foot and cuts away powerfully, but it's well stopped by Tammy Beaumont at point.

Dottin is making her way down the track, though, looking for a single. There's a run out opportunity and it's a good throw from Beaumont, but unusually Amy Jones can't gather behind the stumps.

How costly could that be?

Andy Zaltzman

BBC cricket statistician

That's the eighth stumping in this series – four for Amy Jones and four for Shemaine Campbelle.

That ties the record for the most in a bilaterial series in England in women's cricket in any format.

Deandra Dottin has enjoyed herself so far…

Video content

Video caption: Dottin hits Brunt for back-to-back boundaries

After being demoted from opening, Hayley Matthews is in during the powerplay anyway. Can she find some form and lead Windies to victory and keep this series alive?

That's a much better second over from Katherine Brunt as a back of the hand slower ball deceives Deandra Dottin.

Michael Vaughan

Ex-England captain on BBC Two

Skilfull bowling by Katherine Brunt, rolling her fingers down the side of the ball.
Latest Post